Latest Trends in Digital Marketing
Like any other field, even digital marketing is facing a technology shift. Though basics remain similar, what was is no longer what is Confused?
Read on to learn more about the latest trends in digital marketing and see if you need to tweak your digital marketing tactics to adjust to the emerging trends and technology shifts.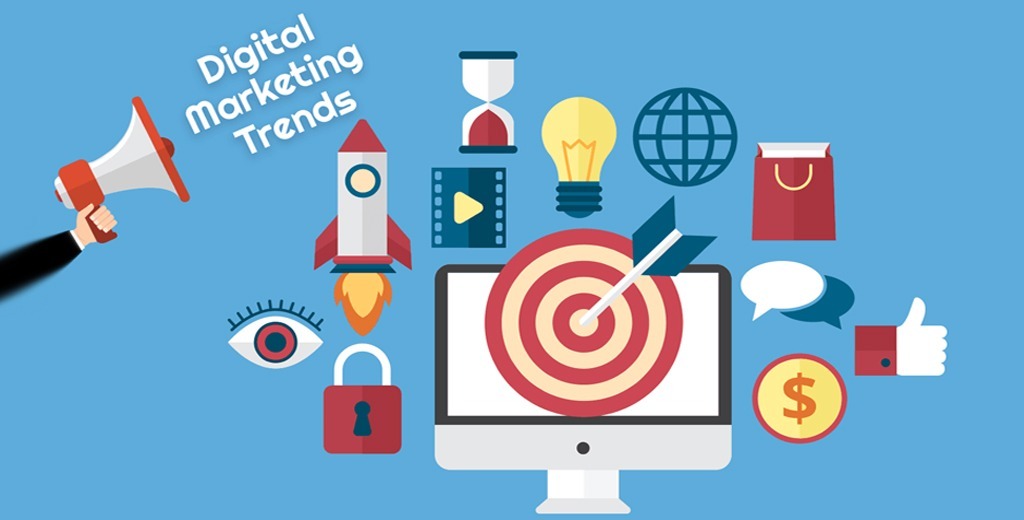 Video marketing
Videos are the emerging marketing trends as it consumes less time to convey volumes of information. One example could be the explainer video released by companies. They include animations and graphics to make the video more engaging to the consumers.
According to the latest 2019 statistics, around 500 hours of video per minute are uploaded into the video streaming platform youtube alone. So just by the scale of it, one can imagine how vast the market for videos is.
Besides captivating users, attention to videos is much easier than through words. Hence if you are looking to establish your brand and have it trending, then we advise you to switch to video marketing.
Voice search
According to market research, around 66.4 million people in the US use smart speakers and rely on it to get the required information. Even voice-activated search on mobiles contributes to voice search making it one of the most sought after Digital marketing trends in 2020.
So, all one needs to do is use long tail keywords instead of shorter words to perform relevant voice searches.
Social Commerce
Social Commerce is all about reaching new customers to sell products or services through the social media platform. Having shoppable posts reduces purchase barriers, reaches a broad customer base, and shortens the sales funnel period.
The stats have it that while 60% of Instagram users find new products through the platform, 70% of Pinterest users report the same. It is now relatively safe to say; people find it easier to explore products in unconventional methods rather than shop on the e-commerce site. Hence, developing your digital marketing strategies around social media is the way forward.
Interactive Content
Interactive content includes content for shoppable posts, video content, quizzes, and polls. People prefer interactive content as it gives them a clear idea of what they want instead of going behind what the service or the company offers. Interactive content is sure to be a popular trend as it is –
New and trending
Remove unwanted content.
Easily shared to increase brand awareness.
What people prefer – to interact
Visual Search
Searching the search engines through images is Visual Search. Though in initial stages, the results look promising. It allows the users to click pictures and upload them to obtain more information. The beta test by Pinterest and Google makes one believe the future of searches and optimization is using visuals than through words.
Stories on Social Media
The most popular feature introduced by Snapchat has all the users hooked into it. Stories are tiny bits of information shared by an individual entity to perk the curiosity of the user to dive deep into the topic.
So, having apt content to be able to market on social media platforms like Facebook, Instagram, Snapchat, and so on.
The trends mentioned above are just a sneak peek for the first quarter. Stay tuned with us, for we are always on the lookout to find more patterns that might influence users like never before with the technological shifts and emerging trends. Get in touch with us to get the best digital marketing support.